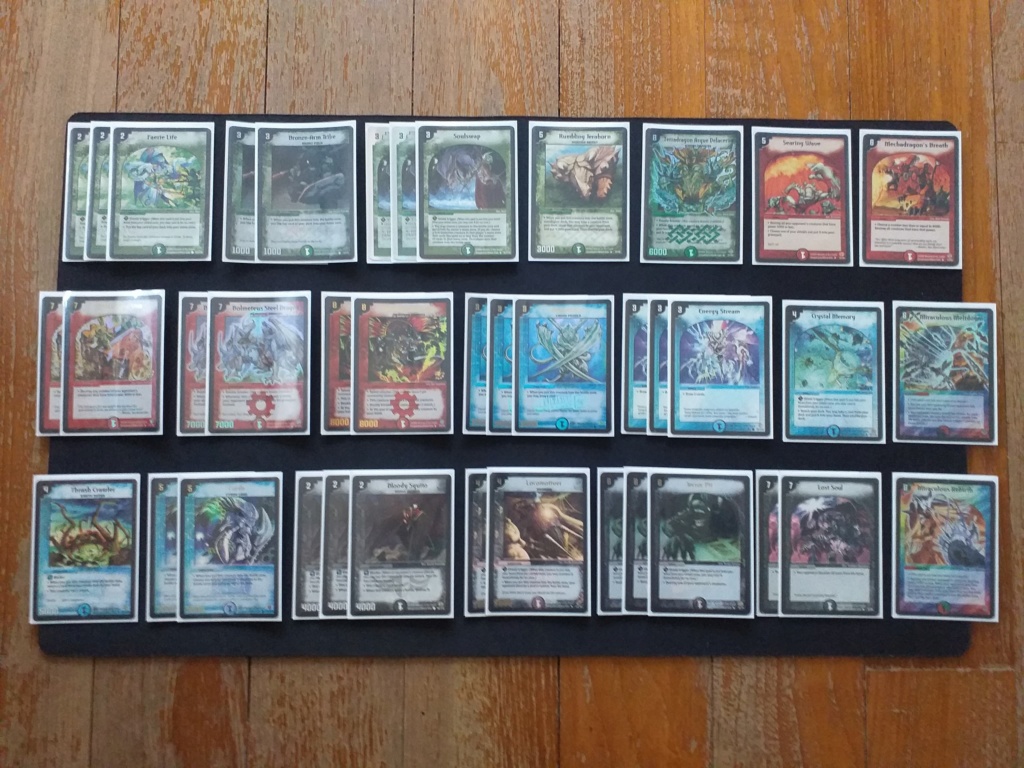 Green (10)
3x Faerie Life
2x Bronze Arm Tribe
3x Soulswap
1x Rumbling Terrahorn
1x Terradragon Arque Delacerna
Red (
1x Searing Wave
1x Mechadragon's Breathe
2x Apocalypse Vise
2x Bolmeteus Steel Dragon
2x Bazagazeal Dragon
Blue (10)
3x Aqua Hulcus
3x Energy Stream
1x Crystal Memory
1x Trash crawler
2x Corile
Black (10)
3x Bloody Squito
2x Locomotiver
3x Terror Pit
2x Lost Soul
Multi (2)
1x Miraculous Rebirth
1x Miraculous Meltdown
Total 40 cards
Tough to squeeze everything in, so there are many one offs. But they seem to work well because of the deck's 40 card size
Mana ramping is compeltely useless late game so its imperative to cut the ramps to a minimum. 3 faerie lifes and 2 BATs seems to run quite well as all you need is 1 mana boost to reach lost soul before your opponent.
Win condition
1. Gain tempo advantage then aggro your opponent, pressure using baza with arque in hand
2. Reset your opponent with lost soul. Clear field, get bolmeteus to break shields safely. When bolmeteus dies finish off the with baza or your other small creatures
2 drops:
3x Faerie Life
+ mana ramp to lost soul against control
3x Bloody Squito
+ T2 play against aggro
+ Use it to protect your weenies if going for beatdown
3 drops:
2x Bronze Arm Tribe
+ Mana ramp and body for soulswap
3x Aqua Hulcus
+ Body for soulswap
3x Energy Stream
+Good T3 play
+ 3rd stream better than 4th Hulcus and 2md Memory because of the need to maintain a big hand size against loco
3x Soulswap
+ mainly used on bolmeteus, bazagazeal, corile and trash crawler
Tip: swap gives the deck access to creatures in mana zone so don't hesitate to charge your bolly and bazas early game
4 drops:
1x Crystal Memory
+ Search for a card that you need to suit the situation
Tip: use it to
1. Lost soul on curve
2. Guard against lost soul. T4 memory search for rebirth or rumbling, t5 rumbling search for arque or t6 rebirth search for rumbling into search for arque
Always count your cards in deck to determine what your shields are. Making plays with that information would give you a huge advantage against your opponent.
1x Trash Crawler
+ Frees up a late game card from your mana zone
5 drops:
2x Corile
+ Good for setting up meltdown and locking down for extra turns
1x Rumbling Terrahorn
+ Allows you to determine whats in your shields
+ Guards against Lost soul by searching arque
+ If you already have arque search out a baza to bait your opponent to discard
1x Searing Wave
+AOE
6 drops:
3x Terror Pit
+ Single target removal
1x Mechadragon's Breathe
+ Deal with petrova
1x Miraculous Rebirth
+ Op spell that allows you to check your shields
+ best combo is to destroy a 5mana creature and get your corile or rumbling terrahorn
1x Miraculous Meltdown
+ Turn the game around against aggro
+ Combo with soulswap and baza for 9mana or just baza for 14mana
Tip: sometimes if your opponent is heavily pressuring you don't be afriad to play meltdown if you have 1 shield left with 2 creatures on board. Because that may be your best out
7 drops:
2x Apocalypse Vise
+ 2nd Vise can be runned because of mana ramp. Also 2nd vise generates more value than 2nd searing wave
2x Bolmeteus
+ Finisher for control gameplan
Tip: Charge it in mana early game as you can soulswap it out mid to late game
8 drops:
2x Bazagazeal dragon
+ 2nd baza packs a lot of value
+ Combo with meltdown at 14 mana or soulswap and meltdown with 9mana
Tip: Combos well late game with arque as it baits discard. Lock down with the combo when you have tempo advantage on field
1x Arque
+ Combos with baza
+ Handguard