Hi everyone!
I just found my old Duel Masters collection and I'm looking to sell it in a big bundle if possible (I don't really want to spend time selling cards one by one). I checked the average prices on the google doc you provide on the forum for these cards :
BASE SET
S RARE
Hanusa
Roaring Great Horn
ULTRA RARE
Vampire Silphy
Tower Shell
Thorny Mandra
Evo-Crushinators of Doom
S RARE
Armored Blaster Valdios
ULTRA RARE
Bolzard Dragon
Shadowclash of Blinding Night
S RARE
Rimuel
Alcadéias
King Aquakamui
Niofa
ULTRA RARE
Supporting Tulip
Astral Warper
Doboulgyser
Stomp-A-Trons of Invincible Wrath
Lava Walker Executo
Valiant Warrior Exorious
Laveil, Seeker of Catastrophe
Schockwaves of the Shattered Rainbow
Core-Crash Lizard
Note that all the cards are in FRENCH (except Core Crash Lizard who's in english) and their conditions are Mint or Near Mint.
Here's a picture of the collection :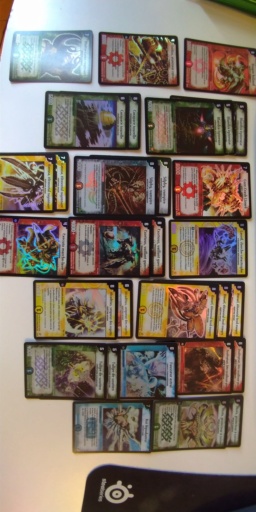 From what I checked, the average global price should be 214€, but I am willing to sell the whole bundle at 150€.
Don't hesitate to DM me if you want more details or specific pictures of specific cards, I know it can be important.
Have a nice day folks!