All DM Reborn trading rules apply.
I live in Germany.
unless otherwise stated, my wants and haves are english.
I dont like to sell, except for max prices and even that rarely.
feel free to ask for dm10-12 rares, super rares if you have some of my wants
also i have a LOT  of basic staples from dm 01-dm06+ so feel free to ask.
i personally value promo staples a lot, so just message me.
some cards of my collection: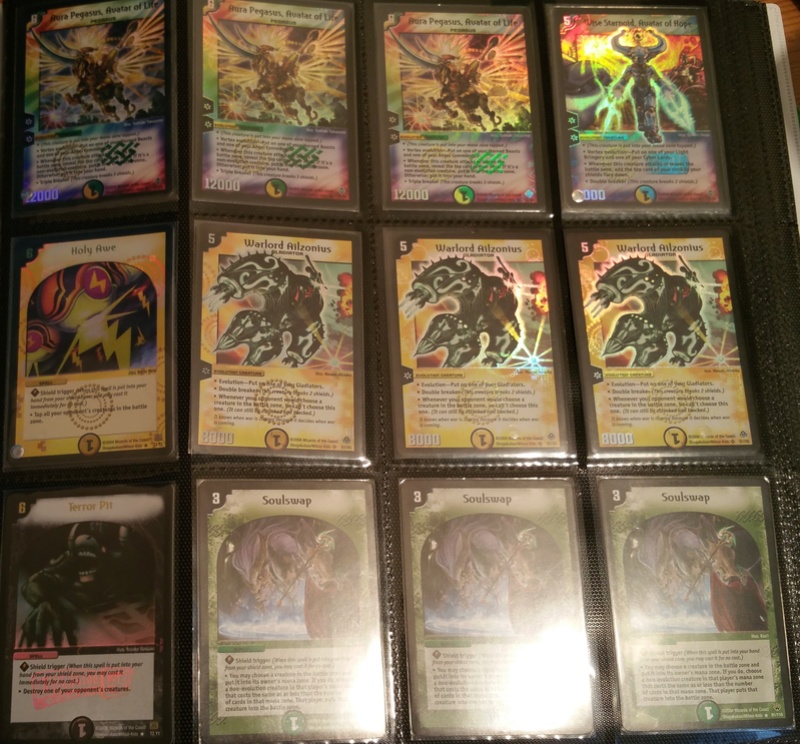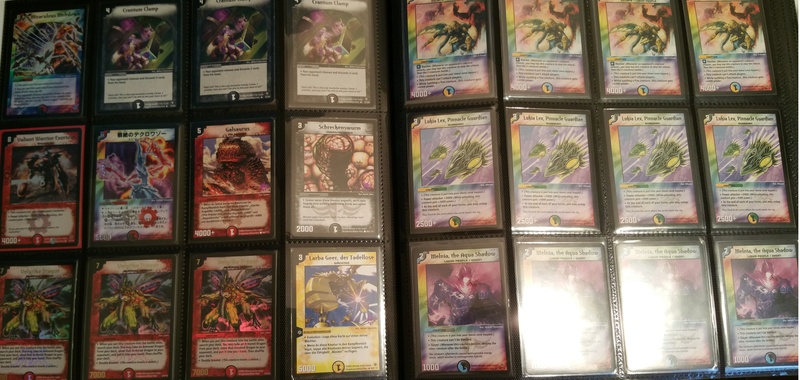 Have:
ENGLISH  PROMOS:
1x terror pit
3x Velyrika dragon
1x Apocalypse vise
1x Melnia
1x Bazagazeal dragon
1x Marinomancer
4x promo barkwhip
1x promo torcon
German Burgerking Promos:
Larba Geer, der Tadellose
Galsaurus
Schreckenswurm
3x Soulswap (near mint-Mint)
4x Pala olesis (near mint)
4x Lukia Lex (mint)
2x Cranium Clamp (lightly played)
3x cranium clamp excellent-near mint
2x Miraculous Rebirth                 1 mint /1 exc
3x miraculous meltdown (1 excellent and 1 near mint)          
2x miraculous plague   (1 lightly played/excellent and 1 near mint)
2x miraculous snare
1x wise starnoid avatar of hope (excellent/near mint)
3x warlord ailzonius                  (excellent/near mint)
3x Bolmeteus Steel dragon      (excellent+/near mint)
4x petrova (near mint)
3x Überdragon Bajula
4x Craze Valkyrie
other stuff:
2x Meloppe
1x Cosmic Darts
1x typhoon crawler
1x whirling warrior malian
1x warped lunatron
1x armored rider gandaval
1x squawking lunatron
1x pincer scarab
WANTS:
High Want:
1x Bluum Erkis,Flare Guardian
Mid Want:
1x Deklowaz, the terminator
4x cloned Nightmare
2x yuliana channeler of suns
2x Morbid Medicine
2x techno totem
1x Soulswap
-Promo Foil Corile
-Promo Foil Holy Awe
Low Want:
1x Miraculous Rebirth
1x aura pegasus avatar of life
2x Belix the explorer
1x German Bolmeteus
2x German craze valkyrie
1x jap. phantomach foil promo
4x Energy Stream mode change
-TCG format staples as OCG cards in foil or alternate art like mode changes or jap. promos:
OCG Wants:
1x Mode change mist rias
4x Mode change energy stream
1x Tajimal dmc 37 (foil silver border)
1x Holy awe/holy spark (dmc 37 foil silevr border)
4x Holy Awe DMC-05 Lightning Thunder Deck
4x emeral dmc-56
4x energy stream DMC-38 Castle of Demon
4x energy stream DMC-37 Violence Angel
4x petrova DMC-43 Never Ending Hero
Mid Want:
2x Poisonous Mushroom Promo
4x gonta foil
4x bazagazeal promos or alternate  arts
3x hide and seek promo (foil)
3x dolmarks promo
4x windaxe foil or alt. art
4x deadly fighter braid claw promo
4x zombie carnival promo
1x radioactive horn the strange
1x twin cannon skyterror promo ocg
1x twin cannon skyterror DMC-20
1x twin cannon skyterror DM-18 Best Challenger
Other General Wants:
-Promo Foil Aqua Hulcus
-Promo Foil Corile
-Promo foil Emeral
-Promo foil Terror pit
-Promo foil Holy awe
-Promo foil Apocalypse vise
-Promo Foil Melnia
-Promo Foil Bazagazeal


Last edited by Coriler on 10.02.18 14:16; edited 23 times in total (Reason for editing : wants and haves list updated)