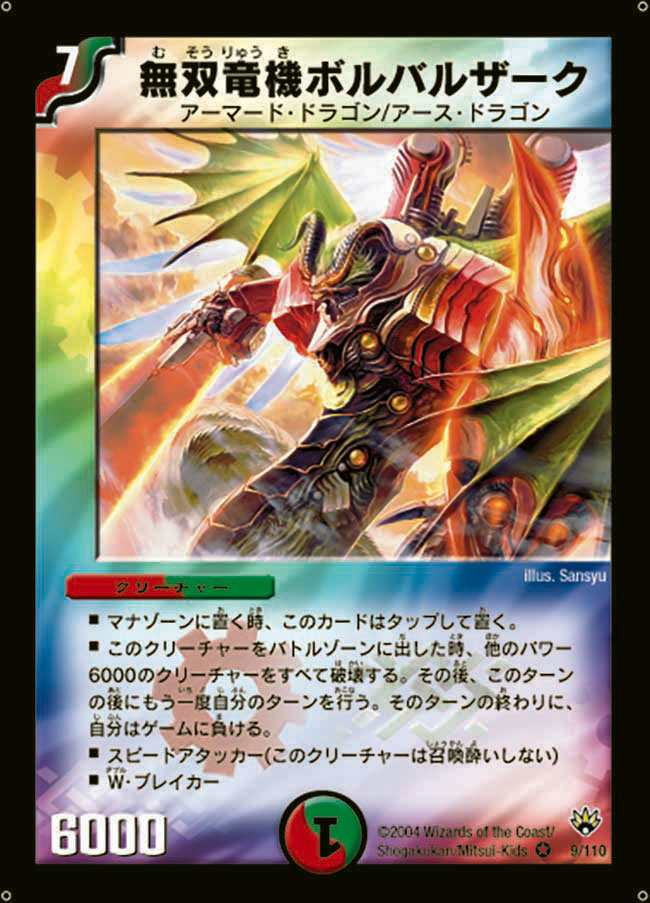 Bombazar, Dragon of Destiny.
I can tell at least someone cringed at that name. And why wouldn't they? This card nearly killed Duel Masters itself.
Now before we start asking the question of this post let's look over this card a bit, for anyone that doesn't know what this beast is.
Bombazar, Dragon of Destiny
Fire/Nature
Cost 7
Power 6000
Armored Dragon/Earth Dragon
Speed Attacker
Double Breaker
When you summon this creature destroy all other creatures with 6000 power. At the end of the turn take another one. You lose the game at the end of that turn.
Now just looking at that you should be able to see plenty of problems. It's a dragon first of all. And we all know that dragons are Duel Masters favorite creature type. So when it come's to races he's got all the support to make him work. Next he's fire and nature. The 2 civilizations that represent speed. Fire with it's rush and cost reduction and nature and it's ramp. And he has speed attacker so he can attack immediately. His screen nuke effect isn't that useful but it could remove some creatures. The effect that got him banned however is the extra turn effect. Anyone who's gone against or used an extra turn knows how amazing it is. You get an extra draw, extra mana and you get to attack with all your creatures again.
The only drawback is at the end of that turn you lose the game. But that's barely a problem as you almost definitely have won by then.
Now on to the question of the post.
Could he ever be brought back, probably at 1?
Let's look at some reasons he could be brought back first.
-He's not the only creature that gives you an extra turn anymore. While he gives you the easiest extra turn there are still more creatures that can give you them. And VV-8 can give you that extra turn really easily if you build a deck that supports him, hell, you could even get 2 turns out of that creature! And since he's not restricted you could run 2 at once then use Dokindam Area Forbidden of D to summon 2 at once and get 2 turns! And lots of extra win cards are coming soon with the Jokers
-He can't be cost trampled by Dogiragon Buster
-He's an armored dragon and that type of dragon hasn't been supported that much in years
-Bolmeteus Sapphire was released from being completely banned
-Easily removed
-Troll Ragnarok in final shield
Reasons this is a stupid thought and he should never be brought back
-Blue Dragon Earth
-So many years of Dragon Support
-Extra turn! You don't have to deal with seals or get your opponent to choose him you just get an extra turn!
-You can summon him on the third turn if your lucky with mendelssohn and have him and scramble change in hand! Then you could rev change into Dogiragon Buster cost trample something then next turn win the game.
-He's a good revolution change target
-Dragon Jackpot
So what do you think? Could Bombazar be released from his hold in the near future? Me personally, the optimist in me believes he might be ok at 1, extremely dangerous in a deck build around him, but not the worst possible thing ever. But the logical side of me thinks control players will make him the worst thing ever and hate everyone for letting him be released.