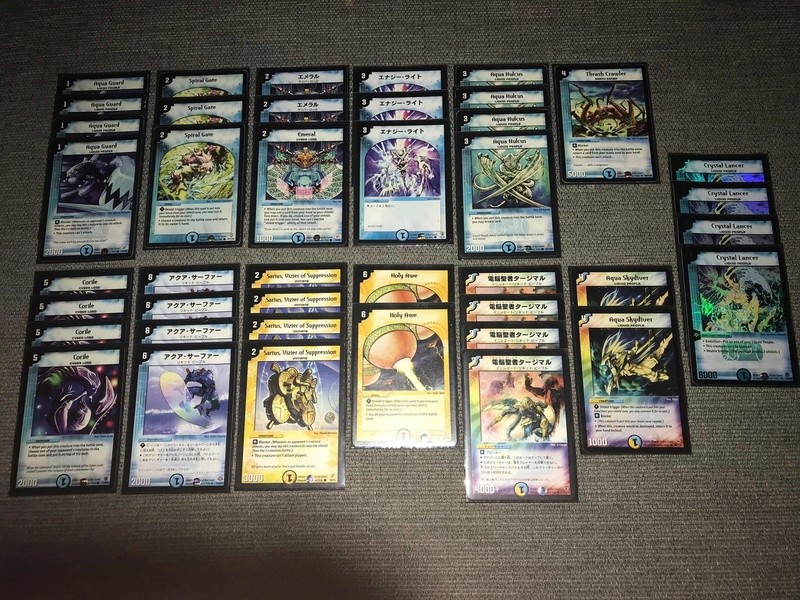 This is a deck i made years ago, and was originally made as a mono water deck, with Angler Clusters instead of Tajimal, Madrillion Fish instead of Sarius etc. The deck as it is today, is very very good. It is a very straight forward deck, that has strengths in all areas. It is both fast, plays a strong lategame, has a lot of draw power, has a lot of defense, a great finisher and lots of removal. The reason i changed the deck from mono water to light/water, was to adapt to a meta with a lot of Bombazar and control decks. As opposed to Angler Cluster, Tajimal does really relly well against Bombazar, Bolmeteus, Twin Cannon etc, while Sarius does better than Madrillion Fish/Battery Cluster against early aggro/rush cards. The Holy Awes are also great against aggro and Bombazar decks. After adding the light engine, the deck litterally has no bad matchups. It wins against control decks most of the time, and even wins against Bombazar Blue around 30% of the time. Against Bombazar, this decks gameplan is very straight forward:
You play an Emeral or a Hulcus early on, and proceed to hit a shield every turn, as you build up your wall by spamming Tajimals, Sarius, Aqua Guard etc. When you get your opponent down to 2 shields, you should have reached about 6 mana, and can then proceed to drop the Lancer, and finish the game. This works surprisingly often, and it works against controls also. The deck is very straight forward, yet very fun to play. It uses the standard water line up, carrying one of the best finishers in the game, as well as water great early game lineup.
Yes im not using Illusionary Merfolk in this deck. The card is too low-impact for a 5th turn card in an aggresive meta like mine. I also don't like the fact that it costs the same as Corile. In this deck i prefer to drop Corile on 5, and Lancer on 6.
You can also try out the initiate version of this deck. You could then swap Hulcus for Magris, and swap the Lancers for Craze Valkyrie. That version will also be very good, but i prefer the Liquid People version!
I know people don't like thinking about Bombazar when building their decks, but i think it is really cool that i have found a deck that flat out beats many Bombazar variants, and can even do quite well against the standard Bombazar Blue (winning about 1/3 times). This deck has one of the best matchups against those overpowered decks that i have ever seen. When you execute the gameplan that i described above, you put a lot of pressure on the Bombazar decks. When they know you can drop Lancer on the next turn and win, they are pushed to go for the kill in a not so comfortable position. You may have 3-5 shields remaining, which can be full of Surfers, Awes, Skydivers etc. The fact that Lancer can be put on Tajimal as well, means you can play defensively, while being offensive at the same time. What i also like so much about this deck, is how simple it is, and yet so good. Let me know what you guys think!