In the Duel Masters TCG format this is one of my favorite decks to play. Even though it doesn't have Bajula, or any Armored Wyverns, it's still a really fast, powerful, and fun deck to play with. The deck focusses on ramping to 7+ mana as quickly as possible to play my Bolmeteus Steel Dragons while also interupting my opponent mana and field.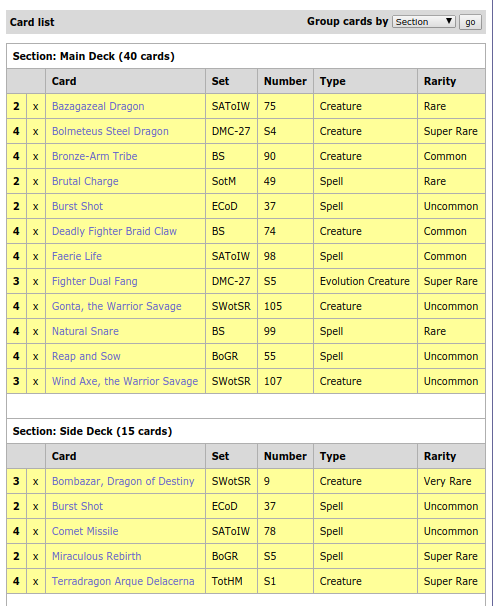 MAIN DECK(40)Fire(12)
4X Bolmeteus Steel Dragon-The main finisher of the deck, use him to by pass any nasty shield triggers the opponent may or may not have.
2X Bazagazeal Dragon-Secondary Fire finisher. He's a speed attacking double breaker that can attack untapped creatures. The downside? He returns to the hand at the end of the turn. Can be swapped out with Twin-Cannon Skyterror extremely easily. I run Bazagazeal mostly for the ability to deal with certain creature threats that Twin-Cannon can't deal with.
4X Deadly Fighter Braid Claw-We use this guy as early aggro. This guy's here mostly for personal preference(as I can use him in combination with Brutal Charge to grab one of my finishers when I'm not drawing them) and it can be switched out with either Comet Missile or Fists of Forever.
2X Burst Shot-This card is here to deal with rush decks as well as control decks that use weanie creatures.
Nature(17)
3X Fighter Dual Fang-A mana ramping secondary finisher that can be evolved over my Bronze-arm Tribes after they have served their mana ramping purpose. Could be replaced with some non-evo non-ramping finisher such as Terradragon Arque Delacerna(to deal with discards)
4X Bronze-Arm Tribe-Cheap mana ramping creature
4X Natural Snare-Simple Shield Trigger creature removal.
4X Faerie Life-Simple early game mana ramp.
2X Brutal Charge-We use this for when we don't draw our finishers, but we did draw some weanies. Use this and attack them shields to search our deck for the creatures we need. Usually either Wind Axe, Bazzagazeal, or Bolmeteus.
Fire/Nature(11)
4X Gonta, the Warrior Savage-Another early game threat for when I'm not drawing my finishers. Has a high power and can avoid Burst Shot's effect.
4X Reap and Sow-A mana ramp spell that also let's me disrupt my opponent's mana as a bonus.
3X Wind Axe, the Warrior Savage-This guy can deal with my opponent's blockers and he's mana ramp.(If feeling really dickish, could be swapped out with Bombazar, Dragon of Destiny based on the match up.)
SIDE DECK(15)(Side deck is completely up to personal preference, and can be changed to however you see fit. This is just my personal build of the Side deck)Fire(6)
4X Comet Missile-For the match ups with alot of early game blockers.
2X Burst Shot-For match ups against rushes I can't out pace.
Nature(4)
4X Terradragon Arque Delacerna-For discard heavy match ups.
Fire/Nature(5)
3X Bombazar, Dragon of Destiny-For the match ups where I'm feelish particularly dickish, usually when facing dedicated Bombazar players.
2X Miraculous Rebirth-For the match ups where this card is actually useful.
THE DECK'S STRENGTHS AND WEAKNESSESStrengths:
-Able to out pace a variety of decks
-The side deck allows it to become extremely versitile based on the match up.
-Able to play some of the TCG's most powerful creatures with realitive ease
Weaknesses:
-The amount of ramp in the deck could backfire at times, especially against mill decks, which this deck will usually have an extremely bad match up against
-Is a controlly midrange deck, and is only Fire and Nature. No Water, Light or even Darkness in it. A midrange deck using only the typically seen aggro civilizations.
-Most of the best power in the deck comes from the side deck, which is useless unless you're playing matches
And so this is my main TCG deck. It's pretty strong, but it's not the strongest. Any suggestions on improvements, excluding the possible switch outs I've already listed up above, would be appreciated.
And here's the link to the TCO page for the deck. If you feel like it, you should rate the deck ;D
I mean you don't have to, but you really should ;D
;D
;D
;D
Come on I winked like 5 times!
Link to Deck
And with that, have a nice day.