Here is in my opinion the best deck you can possibly make in Duel Masters TCG. It has it all, including, speed, mana accel, draw power, removal, and the best finisher in the game. It summons a lot of creatures very fast, while still keeping a hand and accelerating mana. It easely gets rid of blockers, as well as building up extreme board pressure at the same time. It also usually plays its finishers from the mana zone, and has great card advantage in general, so it is not even weak against discard. It wins basically all the time against every deck that doesn't also run Bombazar. The only half-weakness is standard Fire/Nature Rush. But even there is wins like 60 ish % of the time, as it can soulswap out Bombazar on turn 4-5. Against other decks it just overwhelms them the first turn, by dealing with their stuff and building up mana, while at the same time building up its board presence. The only way to really beat this deck is to take it down before it manages to take you down, which is very unlikely for any non-Bombazar or Rush deck. Light/Water Aggro with Lancer can also do farly well against it sometimes, but as soon as they run into a Surfer or a Soulswap from the shields, it is usually game.
But enough talk! Here is the deck: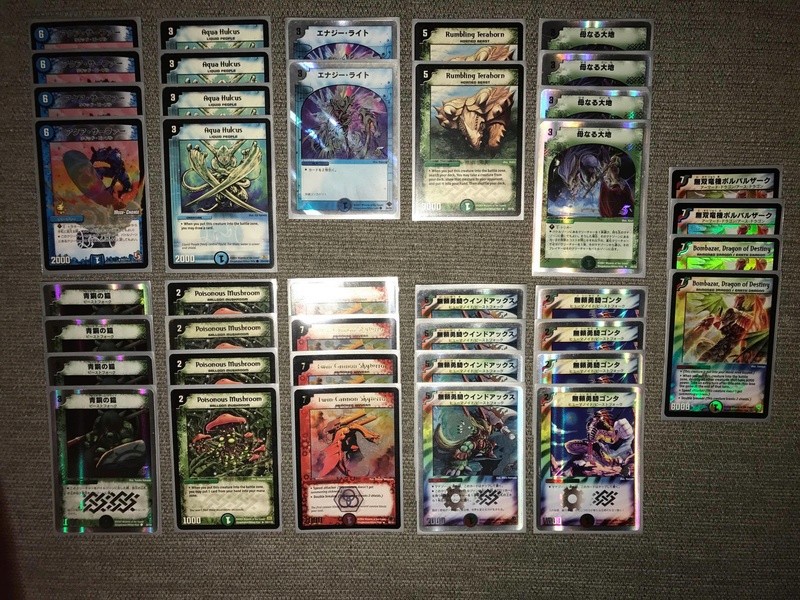 I have testet it against Marino Control, Starnoid, RUB Control, Light/Water Aggro, Phal Control, Fire/Nature Rush, Dark/Water discard and some other decks, and it may lose a game here and there, but it never lost a single best of 3 match against anything. Lets hear some opinions on this!