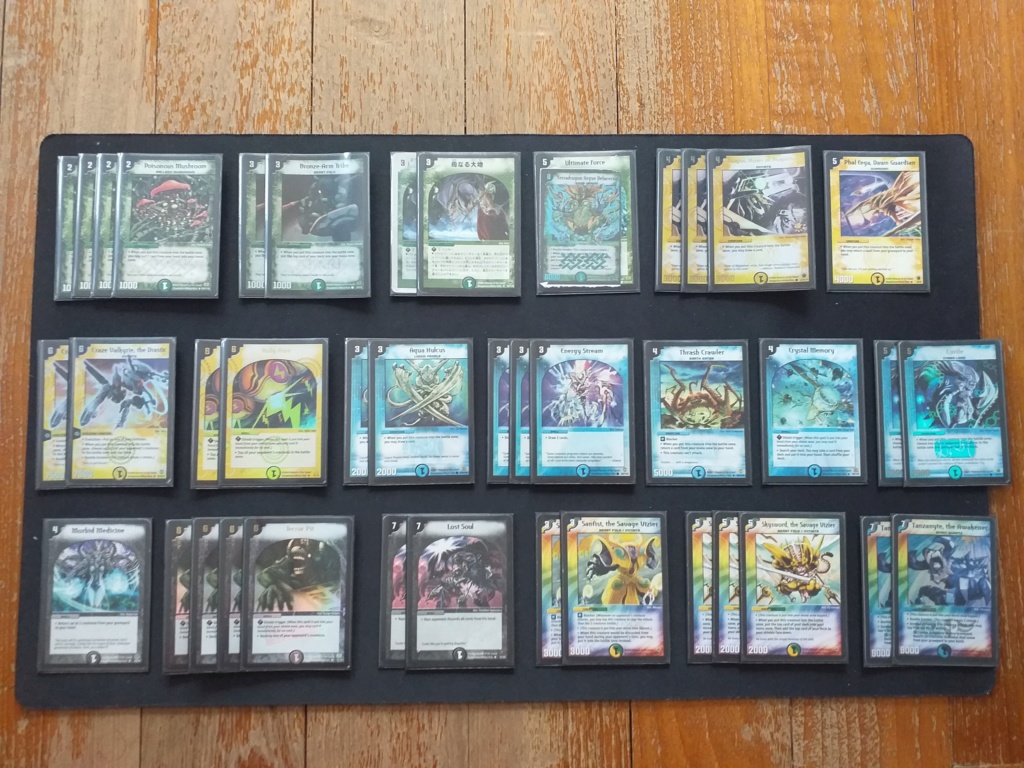 Green ( 9 )
4x Poisonous Mushroom
2x Bronze Arm Tribe
2x Soulswap
1x Arque
Yellow ( 8 )
3x Magris
1x Phal Eega
2x Holy Awe
2x Craze Valkyrie
Blue ( 8 )
2x Aqua Hulcus
3x Energy Stream
1x Crystal Memory
2x Corile
Black ( 7 )
1x Morbid Medicine
4x Terror Pit
2x Lost Soul
Multi ( 7 )
2x Sanfist
3x Skysword
2x Tanzanyte
Total 40 cards
Atm is the only viable midrange deck in the tcg meta.
Against control decks. Farm Lost Soul value by going face with your creatures, manage mana so you have 7. Play your cards and charge mana wisely to preserve important resource pieces like removal and tanzanyte. Be aware of whats in your deck and your win condition against control decks and aggro decks.
Midrange decks are best at farming lost soul value as the have good mana ramp and strong recovery late game.
Against Aggro focus on getting the decks 3x skyswords out. Swarm and try to kill your opponent in 1 turn with a skysword shield to protect you.
2 drops:
● 4x Poisonous Mushroom
+ Good against aggro, can trade with quixotic hero if you play stream next turn
3 drops:
● 3x Energy Stream
+ For recovery and to preserve hand size, which protects you from corile lock
● 2x Aqua Hulcus
+ Attacking body and draw to farm Lost soul value
● 2x Soulswap
+ Use them wisely as there are only 2. Mainly used to get trash crawler, skysword, tanzanyte, phal and corile out from mana for their abilites
● 2x Bronze Arm Tribe
+ Mana ramp
● 2x Sanfist
+ Serves as a blocker which is useful aaginst aggro and handguard against control
4 drops
● 3x Magris
+ You can T3 magris with Poisonous Mushroom the turn before
+ Cycle and evolution body for Craze
● 1x Crystal Memory
+ Search for skysword against aggro
+ Against control you can look for something that helps in that matchup, maybe arque if you want to continue pressuring on field
● 1x Trash Crawler
+ Late game get a high value card back from mana, eg holy awe, tanzanyte
+ Can charge in mana early game. You can soulswap it out late game if need be
● 1x Morbid Medicine
+ Recovery
5 drops
● 2x Corile
+ Good against creatures with no summining effects, eg Mist =Rias, Bolmeteus, simian
● 1x Phal Eega
+ Recovery
● 3x skysword
+ Helps you fend off aggro decks and ramp mana
+ Evolution body for craze
6 drops
● 2x Holy Awe
+ Keep it safe in mana early game and get it back with trash crawler if you need it to otk your opponent
● 4x Terror Pit
+ Removal
● 2x Craze
7 drops
● 2x Tanzanyte
+ Late game recycle and double breaker to attack face
Tip: Be aware of taking back skysword late game as you may deck out
● 2x Lost Soul
+ Farm that value! And make sure you have enough mana to play it from top deck against control decks


Last edited by Promised. on 11.09.19 8:55; edited 1 time in total