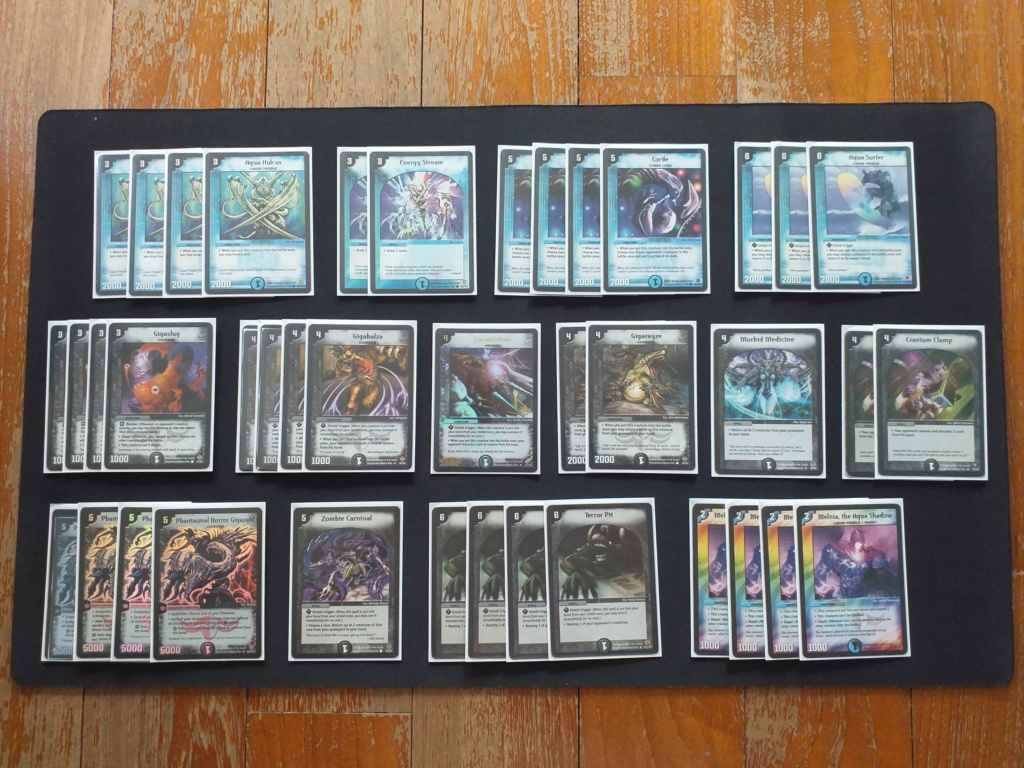 Blue ( 13 )
2x Stream
4x Hulcus
4x Corile
3x Surfer
Black ( 23 )
4x Gigaslug
4x Gigabalza
1x Locomotiver
2x Gigarayze
2x Cranium Clamp
1x Morbid Medicine
4x Gigazald
1x Zombie Carnival
4x Terror Pit
Multi ( 4 )
4x Melnia
Total 40 cards
Gameplan: Try to get your opponent into a handlock
(Ideal situation: On field - 1 gigazald, 1 darkness creature, at least 1 other attacker usually water. In Hand - 1 to 2 coriles, while summoning small creatures with your additional mana after coriling)
Break 1 shield with gigazald, discard shield with darkness creature. Do that for 1-2 turns then finish your opponent once you have a swarm on your board.
Its imperative that you know what deck you are up against. This will impact how to use your resources. Choosing the cards that go into your mana zone, whether to charge certain cards. This is slightly more advanced and can only be gained through gameplay experience. Also don't be afraid to discard arque in a control deck if you want to refill resources from shields. Arque can be dealt with quite easily with corile, and can give you a free turn late game. Here is an example of how to pilot the deck against the most common control deck RUB control.
Or aggro down you opponent if you start first and have melnia>hulcus>gigarayze or gigabalza. Only do this if you notice that you opponent has no answer to your field.
Matchup against an aggro deck
The deck cannot handle hydrohurricane. Just concede if you face hydro
● 2 Drops
4x Melnia
+ Can be used to aggro if you go face for just 1 shield against aggro decks because you have tempo, and opponent's 2 drops would be forced to trade
+ Trades with your opponent's 2 drops like gonta and quixotic
+ If it trades on T3, you can get it back with gigarayze on curve on T4
+ Counts as a darkness creature so you can tap it for gigazald's ability
Tip: When starting first against aggro decks only go face with melnia if you can follow up with a 3 drop either gigaslug or hulcus summon. If you don't have these 2, don't swing with Melnia.
Melnia is better than Propeller Mutant and Spinning Terror as it can be recycled with Gigarayze
● 3 Drops
4x Aqua Hulcus
+ Attacking body with hand cycle
+ Farmable with Gigarayze
4x Gigaslug
+ Evo body for Gigazald
2x Energy Stream
+ Good cycle late game
Tip: You are usually better off playing hulcus or gigaslug on T3. Unless you know your opponent plays an old school deck that runs clamps
● 4 Drops
4x Gigabalza
+ Gigazald bait
+ Good defensive trigger against aggro to set up the corile lock
1x Locomotiver
+ Defensive shield trigger to set up corile lock
Tip: If you have both gigabalza and loco on T4, play loco first if you know your opponent runs removal like volcano charger, so you can max value from loco
2x Gigarayze
+ Recycle your high value water creatures (melnia, hulcus, corile in graveyard)
+ Gigazald bait
2x Cranium Clamp
+ Good handcontrol
Tip: Against control decks, you might consider playing clamp first then gigabalza to increase the odds of pulling an important card that you opponent needs
1x Morbid Medicine
+ Flexibility is nice
+ Costs 1 mana less than zombie carnival so you can morbid into a creature in the same turn 1 turn earlier late game
● 5 Drops
4x Corile
+ Lockdown against aggro
Tip: During lockdown stage, corile your opponent's only creature, break 1 shield with gigazald and discard it with 1 darkness attacker. Hopefully you get 2 free corile turns, then finish your opponent with your swarm of small attackers
1x Zombie Carnival
+ Only 2 races, plus gigzald is also a chimera, therefore carnival isn't too greedy to be played
4x Gigazald
+ Unique ability termed handlock (you can break your opponent's shield and immediately discard the broken shield)
+ Also if going first against aggro decks, this creature trades well with most of your opponents aggro creatures
Tip: Most of the time it is worth to keep in opening hand and not charge it
● 6 Drops
4x Terror Pit
+ Deck needs removal and the 4th pit is better than the 4th surfer for mana allocation as darkness has too many key pieces that you would prefer to keep when curving out
3x Aqua Surfer
+ Defensive trigger
+ Attacking body
Ps: KK, Kevin, CC, Ivin, Daniel thanks for helping with the deck!


Last edited by Promised. on 13.09.19 2:37; edited 7 times in total