Original RUB control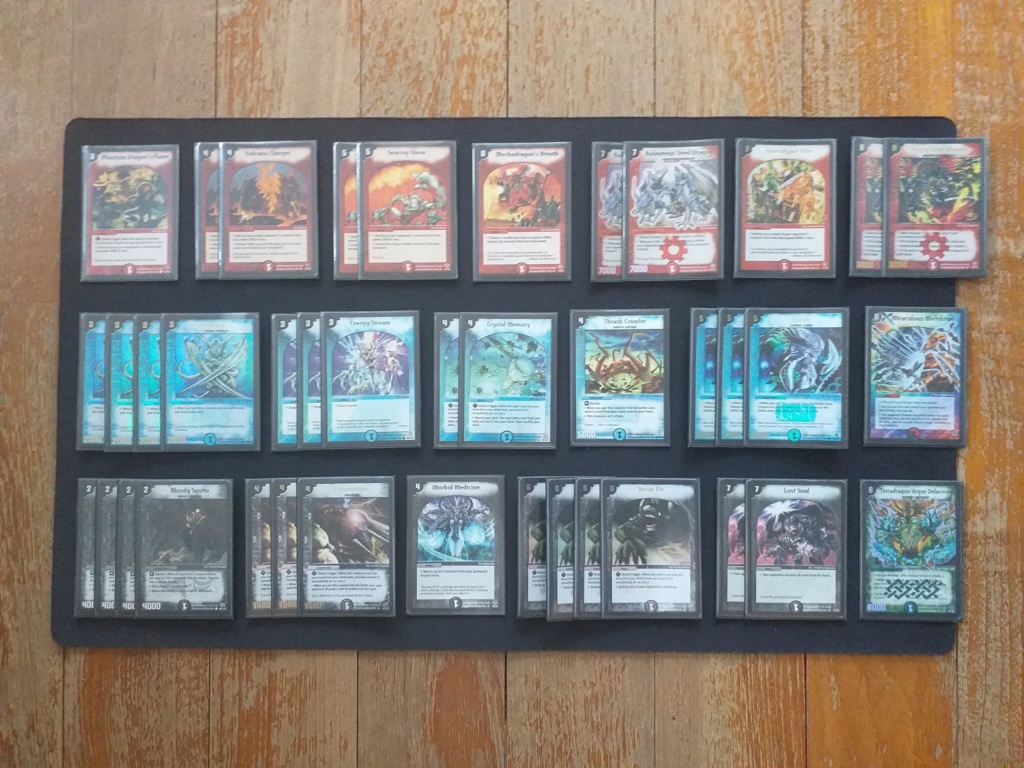 Red ( 11 )
1x Phantom's flame
2x Volcano Charger
2x Searing Wave
1x Mechadragon's Breathe
1x Apocalypse Vise
2x Bolmeteus Steel Dragon
2x Bazagazeal Dragon
Blue ( 13 )
4x Aqua Hulcus
3x Energy Stream
2x Crystal Memory
1x Trash Crawler
3x Corile
Black ( 14 )
4x Bloody Squito
3x Locomotiver
1x Morbid Medicine
4x Terror Pit
2x Lost Soul
Green ( 1 )
1x Terradragon Arque Delacerna
Multi Colored ( 1 )
1x Miraculous Meltdown
Total 40 cards
Game plan
1. Against control, break shields with your hulcus, loco and corile to maximise value from lost soul. And close out the game with arque and baza
2. Against control race to lost soul and try to finish with bolmeteus. For this method, also identify areas where you can swing with your small creatures to maximise value from your lost soul top deck. If you are losing the lost soul race, crystal memory for arque to guard your hand. Your opponent can't deal with your hand and board at the same time.
3. Against Aggro, survive and set up a meltdown turn
4. Against Aggro, if you can gain tempo. Set up bolmeteus lockdown (break 4/5 shields should be good enough) then and close out with your small creatures and baza.
examples of the various win conditions can be found here:
tips:
- Through mid game you may consider having at least 2 water cards in your mana, so late game you can hulcus or stream into another water card for tempo. Of course this is only possible if you draw most of your water cards that you don't need depending on how the match is playing out.
- Preserve your hand to protect lost soul from or any other important pieces from discard.
- Know the deck you are playing against because certain cards will help you more in specific matchups. Eg. Against Hydro save your pits for rias and pala when curving out. Play Hulcus for water mana for corile if need be.
- Against aggro only crystal memory for bolmeteus if you are ahead on tempo.
- Learn to identify arque in your opponent's hand by watching which card he has been holding onto and how he charges his mana
● 2 drops:
4x Bloody Squito
+ Good for trading against aggro decks 2 drops
+ Protects bolmeteus from opponent's baza
● 3 drops:
4x Hulcus
+ Attacking body plus draw card
Tip: Use it to go face to maximise lost soul value (unless against decks that can snowball fast with hand advantage eg hydrohurricane)
Between playing Hulcus and Stream consider the deck that you are up against. Against Aggro Hulcus is always than stream since your default win condition is always meltdown. Meaning you need attacking bodies on the field to win by meltdown. Therefore the stream would go into mana so hulcus can be played.
Example of opening hand where you probably have to choose by T3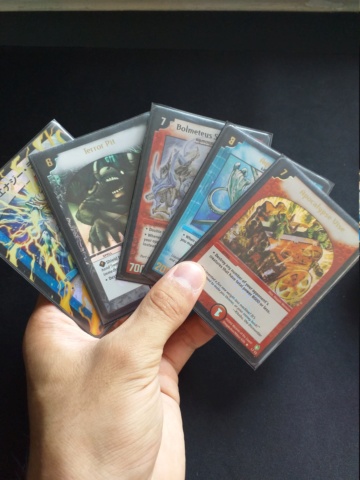 3x Energy Stream
+ Good recovery and cycles your deck
1x PDF
+ Good destruction spell against aggro
● 4 drops:
2x Crystal Memory
+ Search deck allows you to count your cards
Tip: Memory for lost soul or arque against control decks
1x Trash Crawler
+ Recover high value cards mid-late game that are stuck in mana because you had to charge them early game
3x Locomotiver
+ Random discard is better than opponent choosing
+ Attacking body
1x Morbid Medicine
+ Late game grave recovery, good choices are Corile, Bolmeteus, Baza and Arque
2x Volcano Charger
+ Removal and ramp at the same time
+ Wins you the lost soul race
Tip: If you know you are gonna get lost souled by your opponent next turn, just play volcano charger to ramp 1 mana
● 5 drops:
3x Corile
+ Extra turn
+ Good for setting up meltdown win condition
2x Searing Wave
+ Aoe against aggro
● 6 drops:
1x Mechadragon's breathe
+ Tech mainly for hydrohurricane
Tip: can kill 2x pala olesis which are at 4.5k power each
4x Terror Pit
+ No power cap
+ Remove snowballing pieces eg mist rias, bolmeteus, arque
Tip: know your shields when you memory, knowing whether you have 1 pit in your shields against aggro would help a lot in setting up a meltdown or bolmeteus turn
1x Miraculous Meltdown
+ Default win condition against aggro decks
+ Combos with baza at 14 mana
● 7 drops:
1x Apocalypse Vise
+ High value Aoe
+ 2nd Searing better than 2nd apoc because the deck doesn't have consistent mana ramp
2x Bolmeteus Steel Dragon
+ 1/2 of the win conditions (bolmeteus lock)
Tip: Against aggro decks if you have tempo, don't be afraid to use crystal memory from shields to search for Bolmeteus instead of meltdown
2x Lost Soul
Tip: Volcano charger helps to race to lost soul. If you are going to lose the Lost Soul race, focus on having 2 water mana, swarming the field, and crystal memorying for Arque
● 8 drops:
2x Bazagazeal
+ Baza lock
+ Combos with Arque
+ Combos with Meltdown at 14 mana to otk your opponent when you have no shields left
+ Can be used to close out games by going face
1x Arque
+ Handguard combos with Baza
Tip: Start going face with your small creatures if you have arque in hand against control decks (hydrohurricane is an exception as the deck can snowball with blockers and card draw)
Most of the time the right is to use Arque to go face to farm lost soul value even when arque is the only creature on board


Last edited by Promised. on 09.09.19 11:25; edited 2 times in total